The sunrise presented itself in tones of grey, and it remained that way the rest of the day. It was predictable enough, after all it was a cold winter's day and we were riding along a mountainous road in Galicia, north of Spain. Winter in this corner of the country is persistently cloaked in a solid wall of mist, persistent but not immutable. In fact this is one of the things I enjoy the most in every winter road trip I make in Galicia, the way the mist opens itself as a curtain letting the warm sunlight bathe the landscape abruptly.
And this day is was one of those magical days. When we arrived to Ribadavia, it was concealed in a foggy veil, which started to vanish as the day passed. Contrary to what you might thing, Ribadavia seemed to be in its natural form, like it was made to be appreciated that way, under a pale light. A light that blends with the shadows and allows to see more clearly whatever is hidden in plain sight in this little town in the banks of the Avia River.
Amid tiny and narrow streets quintessential of medieval urban fabric, squeezed little houses with doors in the most uncommon places and windows and balconies blooming from tight blocks of stone houses as though they were reaching for the sun, we find a series of chapels ranging for Romanic to Baroque architecture that present themselves as clearings in the intricate fabric of the town and revealed squares, arcades and viewpoints offering a pleasing stroll full of surprises. And one of these surprises materialized in the form of a corner house with a beautiful green gallery where there's a bakery owned by an unforgettable woman.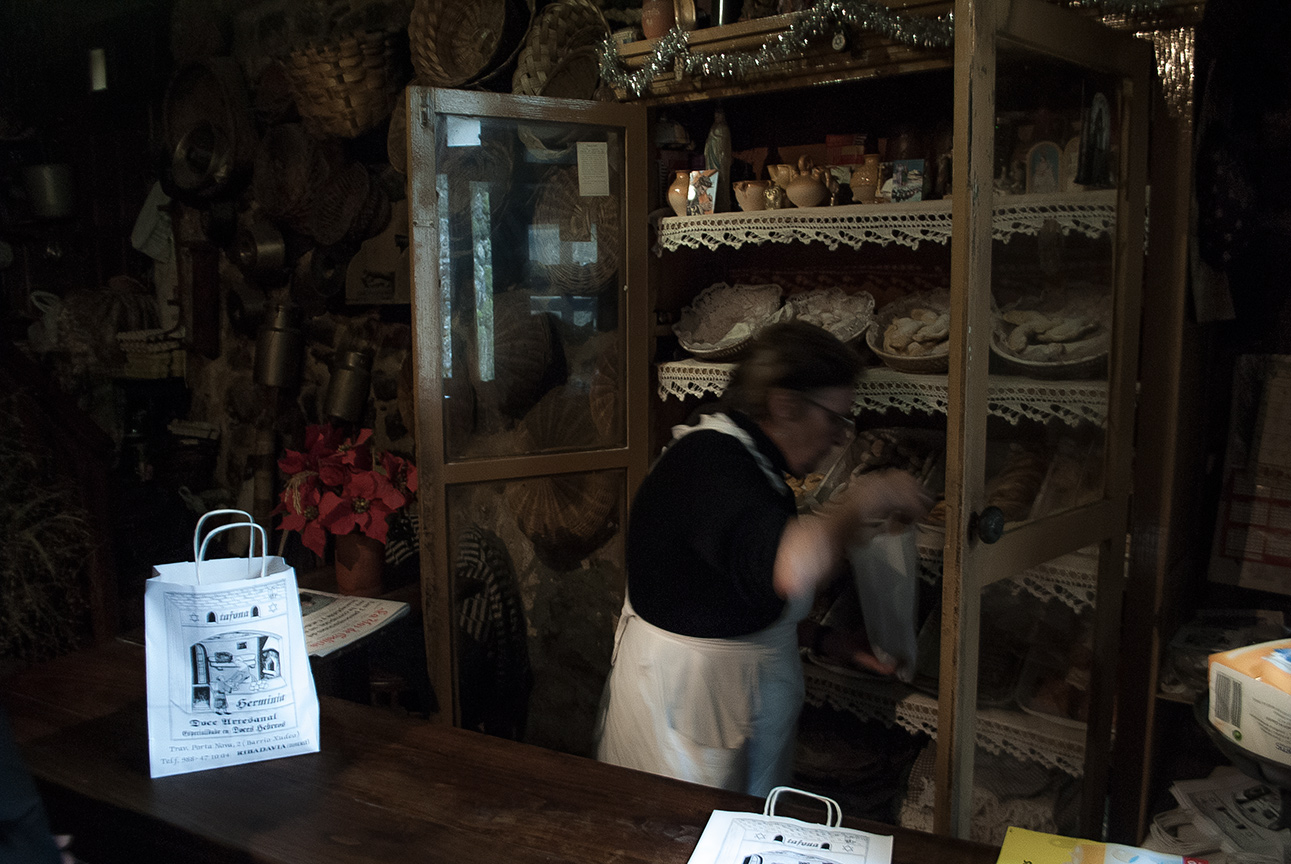 Herminia's life is her stone oven. She claims that  baking is her life and it makes her happy, she claims that she rests only for three days…per year and each and every one of us who had had the pleasure to meet her claim  that she is a living treasure personified in a sharp and sweet old woman. And everything began a few years back during the Festa da Istoria in Ribadavia, when she was asked to help with a Sephardic music presentation with props and decorations. Honouring the town's historic Jewish quarter she decided to bake what she called 20 years ago traditional Jewish delicacies. It was such a hit that recipe books started to arrive to her humble bakery from all over the world, and in an incredible example of solidarity and globalization, the Tafona de Herminia was born to become a legend in Galicia,  but mostly in the world's Sephardic circles.
So, between cookies and sweets of unpronounceable names explained with incredible patience and warmth we parted the corner house in the Porta Nova de Arriba street carrying bags full of Mamules, Bocadiños de Dátiles, Kupferlin, masiñas de mapoulas and the absolutely incredible (and given the quality and taste of everything she bakes you can't even begin to imagine) Mostachudos, a taste my palate will never forget.
Ribadavia is definitely a place to go and to know, with people to talk and lots of buildings to visit.